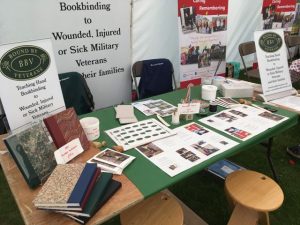 This year Armed Forces Day (AFD) took place at Hudson's Fields in Salisbury on 28-30th June, and the team from Bound by Veterans (BBV) were there to exhibit what we do and explain how bookbinding can help WIS veterans and their families in recovery and rehabilitation. 
It was a hot weekend and plenty of families came to take advantage of the entertainment and refreshments on offer. Many of our 'customers' were children who had a go at making a small pamphlet binding, or covering a pencil in a decorative paper. 
Hopefully we managed to spread the word about what a useful and therapeutic craft bookbinding is in aiding recovery and particularly in assisting those with stress related illnesses. 
If you know of anyone who has been discharged from the services through sickness or illness, and who you think might benefit from trying their hand at a fascinating craft, then please ask them to get in touch with us: [email protected] It's all free and we would love to hear from them.