We are not a club or society, and there is no charge for "membership". The Veterans we support have already paid by serving their country, often with pain and occasionally in blood. The Bound by Veterans courses are free to all those who have been discharged early from the Services because of their wounds, injuries or sickness (WIS). We also support spouses and partners of WIS veterans, as well as any WIS who are in transition awaiting a medical board.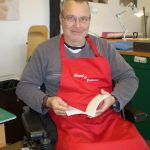 Stefan tests out his wheelchair maneuverability  at the bench
Since we started seven years ago almost 550 veterans have completed our introductory courses and/or City & Guilds Level 1 and 2 qualifications. In 2019 a Bound by Veterans student, Wendy Lagden (ex RN), became the first person in the UK to achieve a City & Guilds Level 3 Diploma in Bookbinding. We are immensely proud of her achievement in this demanding course.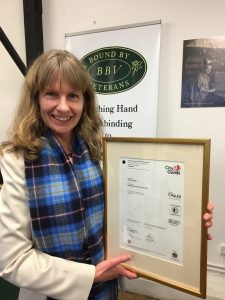 Wendy with her Level 3 Diploma in December 2019
Other students in BBV are also enrolled on the Level 3 Course and are working towards a Diploma.
The benefits of bookbinding can be best understood through the testamonials of some of the WIS students:
Clare – [a Lance Corporal in the Royal Signals] "This week has helped me by getting me out of the house and meeting new people which I haven't been able to do since I left the Army and has given me more skills to do something as a hobby or as a job later in life"
Dave – "it not only allows me to be here on the course but it allows me to take the knowledge away and use the skills I've learned at home, so it gives me another hobby again – it's really good"
Rachel (not her real name) – [a Senior Non-Commissioned Officer with over 20 years service in the RAF and, at  the time of writing, was in the process of being given a medical discharge]. "I realise now that I have become institutionalised. I had my whole life mapped out but now I have to start again. Taking the course has helped me tremendously. I was unable to get out of the house for eight months, except for medical appointments, and too nervous to drive anywhere. I now enjoy the journey to the Barn for work. I feel more stable and not too anxious about the future"
Wendy – [ex RN Aircraft Engineer medically discharged in 2005] "Coming to terms with what I can no longer do is a battle I face each day. With bookbinding I can be creative, work with my hands and at a pace to suit me. Without bookbinding in my life, this battle would be so much harder"