We are not a club or society, and there is no charge for "membership". The Veterans we support have already paid by serving their country, often with pain and occasionally in blood. The Bound by Veterans organisation is free to all those who have been discharged early from the Services because of their wounds, injuries or sickness. We also support spouses and partners of WIS veterans, as well as any WIS who are in transition awaiting a medical board.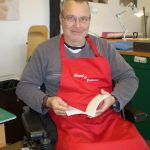 Stefan tests out his wheelchair maneuverability  at the bench
Since we started five years ago almost 350 veterans have completed our introductory courses and/or City & Guilds Level 1 and 2 qualifications.